Panda Joy launches 100% tree-free greeting cards to spread joy while encouraging sustainability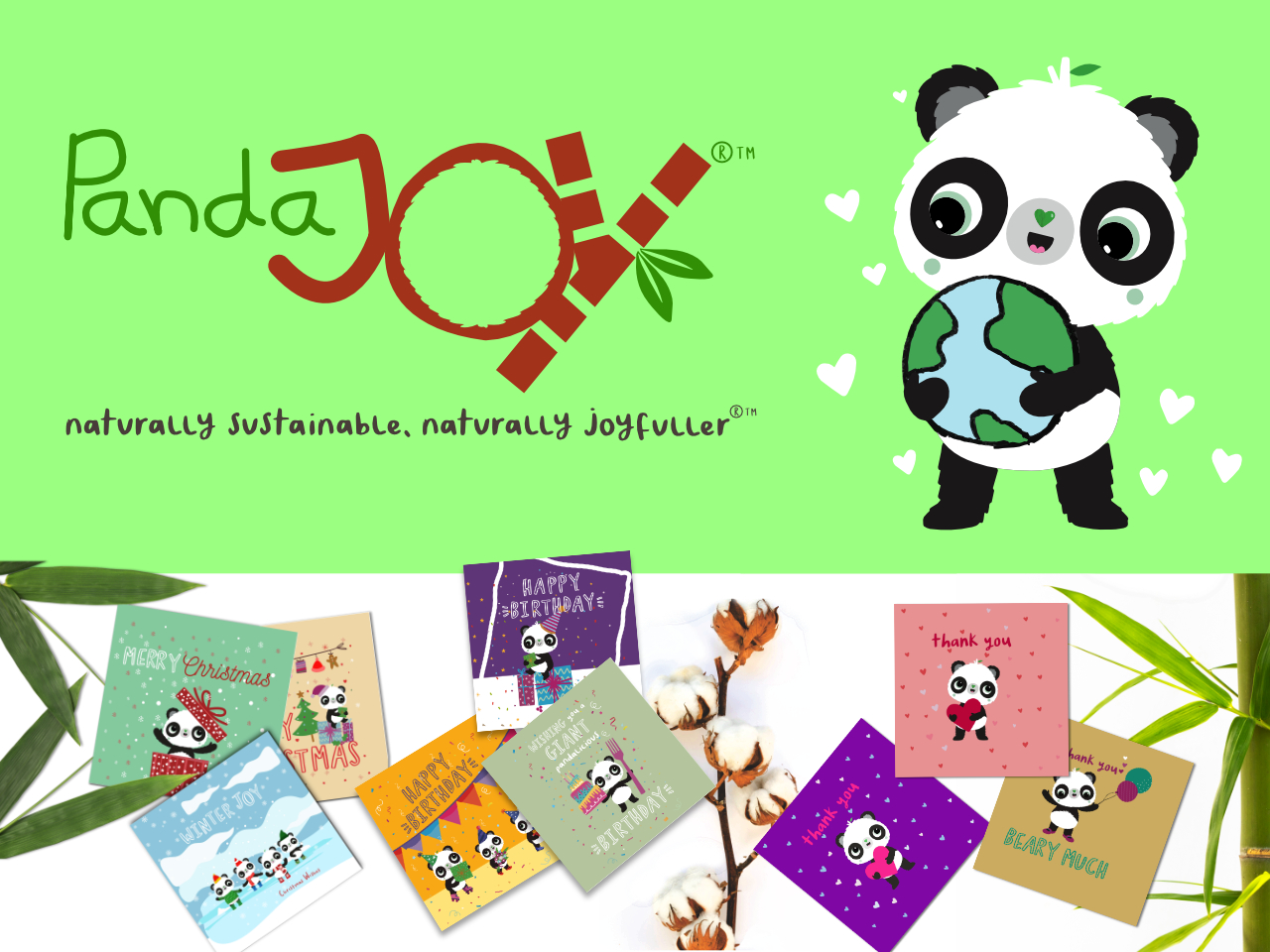 Panda Joy, a sustainable and eco-friendly greetings card publisher based in Oxfordshire, is delighted to announce the launch of its range of 100% tree-free greetings cards, using bamboo and cotton linter as a source to eliminate l using virgin trees to produce wishes. cards. As such, Panda Joy is the latest addition to the UK's £1.7 billion greeting card industry.
Panda Joy believes that sustainability and sharing joyful moments can and should go hand in hand. Thus wanting to help heal the planet and its communities by creating lasting moments of happiness that leave no trace on the Earth, encouraging everyone to live in harmony with the environment and their communities.
Panda Joy's greeting cards are 100% tree-free, made from 75% bamboo, 25% cotton linter and 100% Joyfulnes, making them truly sustainable with the utmost guarantee that no trees are damaged during the manufacture of the cards. Few greeting card companies can say that, can they?
With its unique Joyful Panda character, each design features a distinct personality, cheerful illustrations and fun color accents. Their unique aesthetic will make Christmas, birthdays, Valentine's Day, Mother's Day, Father's Day, birth announcements and more more joyful knowing you're helping save the planet at the same time.
Plus, Panda Joy gives back to the planet and its communities by donating a third of profits to organizations and charities dedicated to their shared mission of making the world a better place. Every time a Panda Joy greeting card is purchased, a portion of the proceeds are donated to environmental and social organizations. Currently, the company supports Micro Loan Foundation (www.microloanfoundation.org.uk), Lend with care (www.lendwithcare.org) and Ecologi (www.ecologi.com) to help preserve the planet and spread joy in its communities .
The team behind Panda Joy, a woman-minority-owned business, is the Ashiru family, led by mother-of-two Birgit. During the pandemic, they've seen the ritual of sending greeting cards skyrocket, a guaranteed way to spark a moment of happiness, say thank you, and always stay in touch with loved ones.
But sending these cards has become something that almost everyone takes for granted and we never really stop to think about the impact this relatively small action can have.
More than a billion Christmas cards are thrown in the trash every year – and that's just Christmas cards, not counting the occasional other cards. To them, that didn't seem like the right way to spread joy.
They asked themselves as a family: "What can we do today to have a positive impact on the environment and its communities? Can we afford to do nothing? What world do we want to leave to our children? Enter Panda Joy, with a big vision and an even bigger mission. The family wanted to develop a product and an idea that would not only help preserve the planet, but also have a positive impact on the communities that live on the planet.
"From the start, we wanted our product and brand to be climate positive and sustainable for the community to allow people to share joyful moments without feeling guilty about harming the environment," Birgit said. "Having learned that over 33% of paper cards are actually not recycled in the UK, that it takes 5-15 years for paper to decompose in landfill and it is estimated that over a billion Christmas cards are burned or thrown away every year, it seemed like an obvious choice to create a sustainable greeting card product to make a difference.The concept will expand from the Christmas, Birthday and Thank You ranges to a much wider range of products for different occasions to share moments of Joy. Our brand motto, Naturally Sustainable, Naturally Joyfuller sums up what the brand stands for. We love the word Joyfuller, even though it's not the one most people use a lot – it dates back to the days of Old English, meaning 'happier'. Joyfuller sounds much better, don't you think?'
The UK is an important market for the greeting card industry, with consumers spending £1.7 billion on greeting cards in 2020; a total of 708 million individual greeting cards purchased during the year, not including boxes of Christmas cards and packs or packs of Easter cards, according to the UK Greeting Cards Market 2021 report, commissioned by the GCA (Greeting Card Association). "The majority of these cards are still not produced in a sustainable way, which in the long run is not good for our planet and its communities," Birgit said. "Now, with Panda Joy's sustainable and eco-friendly greeting cards, customers can share joyful Joyfuller moments without feeling guilty."
About Panda Joy Ltd.
Panda Joy Ltd. is a sustainable and eco-friendly greetings card publisher based in Oxfordshire. The company produces 100% tree-free greeting cards, made from 75% bamboo and 25% cotton linter to eliminate the use of virgin trees; create Joyfuller greeting cards for all of life's ordinary and extraordinary joyous moments. Consumers can find Panda Joy happiness by spreading bamboo greeting cards on their website, www.pandajoy.co.uk
Contact information
Birgit Ashiru
Co-founder
email: birgit@pandajoy.co.uk
07950893411